Pipette Tips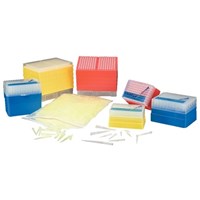 High quality pipette tips, racks and inserts from top brands like BrandTech, Eppendorf,  Labnet, Nichiryo, Rainin, Sartorius and Thermo Scientific. Please contact us if you need assistance in determining which tips are suitable for your equipment. 
Pipette Tips Racks – We offer a wide variety of racks and rack sizes. Here you can find standard racks (non-sterile), standard racks (sterile) and filtered racks. Sizes typically include 20μL, 50μL, 200μL, 300μL, 1000μL, 5mL and 10mL. 
Refills – Shop both sterile and non-sterile standard refills, filtered refills and even standard bulk. 20μL, 50μL, 200μL, 300μL, 1000μL.
Shipping Notice: Although tips are light-weight, large quantities are bulky. We recommend shipping tips via Ground instead of Air due to a considerable air up-charge for large packages.
Tip Characteristic Definitions
Manufacturer-Made Pipette Tips Vs. Others
Need assistance finding the right tips? Contact Us