Pipette Tips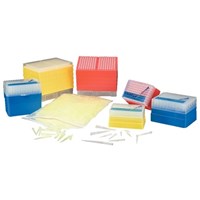 High quality pipette tips, racks and inserts from top brands like BrandTech, Eppendorf, Labnet, Nichiryo, Rainin, Sartorius and Thermo. Please contact us if you need assistance in determining which tips are suitable for your equipment.
Pipette Tips Racks
We offer a wide variety of racks and rack sizes. Here you can find standard racks (non-sterile), standard racks (sterile) and filtered racks. Sizes typically include 20μL, 50μL, 200μL, 300μL, 1000μL, 5mL and 10mL.
Refills
Shop both sterile and non-sterile standard refills, filtered refills and even standard bulk. 20μL, 50μL, 200μL, 300μL, 1000μL.
Shipping Notice: Although tips are light-weight, large quantities are bulky. We recommend shipping tips via Ground instead of Air due to a considerable air up-charge for large packages.
Pipette tips are primarily used alongside pipettes and pipettors to increase the speed of processing and also reduce any cross-contamination. They are made in a wide variety of materials and styles. Some of the most popular styles are: Universal, Low retention and Filter. Pipettesupplies.com offers a variety of options engineered by industry leaders for accuracy and compatibility with most laboratory pipettes.
Pipette Tip Types
Bulk Pipette Tips..
..are the best option by far for labs on a tight budget. Bulk tips save you a large portion of your budget you would otherwise be spending to get racked sterile tips. Of course, you then are responsible for racking them yourself. So simply it's a trade off of time for money.
When sterility is not overly important in your lab work you should definitely consider bulk tips. This is because they aren't packed sterile. If you do need sterile tips you can still go with bulk tips, you'll just have to sterilize them yourself after racking them up.
Racked Sterile Pipette Tips..
..are ISO 11137 certified and approved for use in diagnostics and GMP labs. These racked sterile tips are checked for fit, function, reproducibility and certified FREE of RNase/DNase, Pyrogen/Endotoxins, Bioburden and PCR Inhibitors. All the tips are packaged nicely in a sturdy, hinged lid which offers autoclave abilities. If sterility is paramount in your lab work then racked sterile tips will be your best option.
Since you don't have to be constantly refilling and re-racking tip boxes every time one is emptied, these make for a huge time saver for your scientists and lab technicians. The time saving is even greater for labs that use multi-channel pipettes are a large amount of tips are used per day.
Macro Tips..
..are 5 mL and 10 mL and are designed to fit macro pipettes. Handle larger liquid volumes quickly, safely and efficiently without the need for pipette fillers. These tips are available in bulk, racked and filtered packs.
Filter Tips..
..are the forefront of pipetting technology. Filter tips have a non-self-sealing PE filter that is free from chemical additives and allows easy uncontaminated sample recovery if the filter is wetted. Permeability is controlled by the combination of pore size and filter length, so that no aerosols can reach the pipette shaft.