Pipette Controllers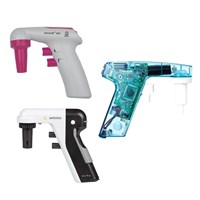 S1 Pipet Fillers by Thermo Scientific are here and ready to ship immediately! SHOP HERE
We offer high quality pipette controllers from top brands like BrandTech, Eppendorf, Sartorius and more. Increase lab performance with next generation control. Ergonomic grips, speed adjustments, and long run times are just some things to expect from these popular pipette controllers.
Pipette controllers are the best instruments for quickly and repetitively filling and releasing accurate volumes of liquid. These devices offer ambidextrous capabilities and include different function modes and speed dials to adjust for different liquid volumes and viscosity.
Choose from a wide variety of designs including compact pistols and linear builds which allow for dispensing via a squeezable bulb, button or thumb wheel. To avoid bothersome cords and offer flexibility when in the lab these pipette controllers come with rechargeable batteries. Filter sizes and colors will vary by model.
There is no need to calibrate pipette controllers.
Need assistance finding the right pipette? Contact Us
Featured Pipette Controllers
Accu-jet Pro:
The accu-jet pro elevates pipette control to the next generation. It improves upon the superior function of the accu-jet with improved functionality and added features.
Easypet 3:
Latest technological developments allow complete speed control with utmost precision. The Easypet 3 sits comfortably in hand and matches its shape to allow for fatigue-free pipetting.
FastPette Pro:
The new FASTPETTE™ PRO, a lightweight and ergonomically shaped motorized pipette controller designed for work with glass or plastic serological pipettes from 0.5 to 100 mL range. Conveniently positioned switches allow choosing different operation modes and speed depending on the volume of the serological pipette and liquid viscosity. Additionally aspirating and dispensing speed is controlled through two comfortable finger triggers.
FastPette V2:
The FastPette™ V2 is designed with a lightweight handle with smooth push-buttons and ergonomically located switches.  This revolutionary battery powered pipette controller works with glass and plastic pipettes in the 1 to 100 mL range.
Macro Pipette Controller:
The macro pipette controller is a reliable and ergonomic alternative to rubber pipette bulbs and other manual aspiration devices. A unique valve system provides precise, one-finger meniscus control that relieves repetitive motion strain from serial pipetting operations, and is simple to operate, even by novice users.
Midi Plus:
Midi Plus is a lightweight, cordless pipetting controller with excellent ergonomics, enabling you to aspirate from bottles and tubes more comfortably.
Original Pipet-Aid:
The Original Drummond Pipet-Aid (non-portable) set the standard for a convenient alternative to mouth pipetting in the laboratory. A patented, easy-to-use volume control mechanism allows precise fluid intake and delivery.
Pipet-Aid Hood Mate:
Specifically designed for convenient, comfortable pipetting under a hood. The Pipet-Aid Hood Mate delivers precise volumes with exact control. This new unit is lightweight and never requires recharging. All materials of construction are UV resistant.
Pipette Bulb:
Simple pipetting aid made of natural rubber for one-mark and graduated pipettes.
Pipette Mate NEO:
Nichiyro Pipette Mate NEO is a user friendly pipette controller. Features Long-life Lithium Ion battery installed, 4-hours charging for 1700 times, Equipped with dial-typed adjustable speed controller, UV resistant for clean bench work, Self- standing without holder, Fully autoclavable spare parts, Complies with CE and RoHS.
Portable Pipet-Aid XP2:
The new Drummond Pipet-Aid XP2 advances the industry standards for pipetting comfort, convenience, and control. The ergonomic design is more comfortable to handle. The new power source allows more convenient extended operation and the powerful pump provides great control and quieter operations. The unit is supplied complete with a power supply/charger, 4 extra filters and a removable stand.
Portable Pipet-Aid XP:
Smaller, lightweight design minimizes fatigue and accepts most pipettes from 1 to 100mL.
Three speeds for each aspiration and dispense button. Medium speed is suitable for most routine techniques. Fast speed delivers up to 50mL in 5 seconds for rapid filling of large pipettes or to break up cell clumps. Slow speed is ideal when using small pipettes or when more precise delivery is required. A gravity drain model is available which substitutes a gravity drain function for the fast mode on the dispense button.