Pipettes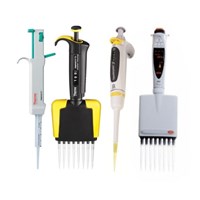 Discounted prices on pipettes from major pipette manufacturers
---
Single Channel Mechanical Pipettes
A Single Channel Mechanical Pipette is used to transfer small amount of liquid, usually down to 0.1 µL and up to 10,000 µL, from one thing to another. In a life sciences lab, it is likely to be one of the first tools you learn to use, and one technicians spends much of their day using.
---
---
---
---
---
---
---
---
---
---
---
---
---
---
---
---
---
Single Channel Electronic Pipettes
Powered single channel electronic pipettes used with disposable pipette tips to transfer a precise amount of liquid. The measurements are typically pre-programmed and may be programmable to your laboratory needs. Moreover, this allows for efficient and repeatable amounts. Includes positive-displacement and repeating pipettes.
---
---
---
---
---
---
---
---
Multichannel Mechanical Pipettes
---
---