Repeater Pipettes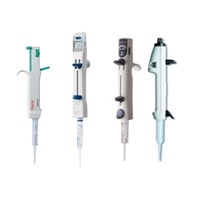 Repeater pipettes, both in manual and electronic variants, are great for instances where you are going to be repeatedly dispensing the same volume of liquids multiple times without having to aspire in between. Pipette Supplies offers repeater pipettes in manual and electronic formats, single channel and multichannel. This allows you to increase production and remove wasted movement. They are both ergonomic and accurate, with versatile dispensing volume ranges. Use repeaters whether you are doing small increments of 1 µL or larger repeatable volumes of up to 50 mL.
Need assistance finding the right pipette? Contact Us
Manual Repeater Pipettes
Economics and effectiveness are what makes manual repeater pipettes a good option for your lab. Requiring no batteries or charging and at a lower price point compared to the electronic version, these are for labs focused on cost effectiveness and accuracy.
Electronic Repeater Pipettes
Eliminating human error and enabling peak performance is what you can expect from electronic repeater pipettes. Ergonomic grips, digital displays and electronic pipetting reduces RSI and maintains extreme precision.