Bottletop Dispensers & Burettes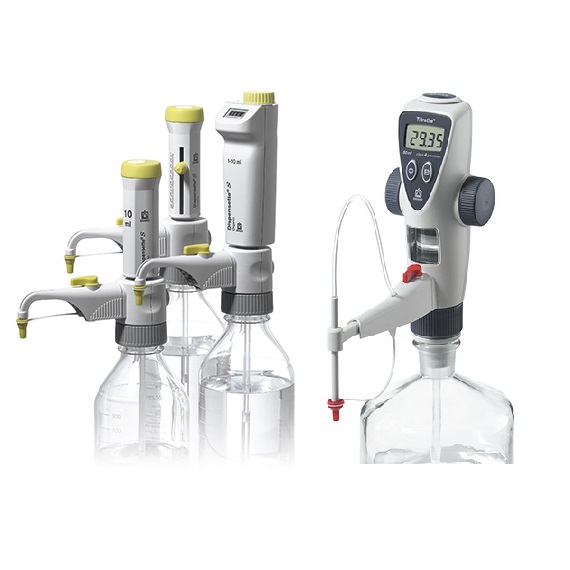 Bottletop dispensers are the best way to dispense aliquots of liquid from large glass or plastic bottles. The bottletop burettes' job is to provide reproducible dispensing without wasting reagent. Because of the multiple adapters we offer to fit any bottle in your lab, bottletop dispensers from pipettesupplies.com will guarantee the best results. We currently carry the market leading brand BrandTech and are adding more constantly. If you can't find the right unit for your laboratory needs give us a call.
Important factors to consider before purchasing bottletop dispensers include the type of liquid and volume you will be dispensing. Some common fluids that are dispensed in the lab include strong acids and bases, saline solutions, organic solvents, trace metal free liquids, etc.
Your next decision is whether or not you want a manual or digital unit. Below you can find all our available options to meet your needs. Variations between them will include the method of liquid dispensing, price and added features like analog or digital display, etc.
Need assistance finding the right bottletop item? Contact Us
For consistent and accurate results for years to come will require proper calibration. It is an important part of great laboratory practice.
If you would like to aliquot small volumes, like 1 µL, we recommend using an electronic pipette or a repeater pipette.