Sartorius Pipette Tips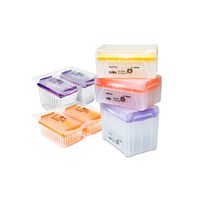 Shop replacement Sartorius Pipette Tips. Both Sterile and Non-Sterile available.
In liquid handling, accurate pipetting results are not dependent on the pipette or the tip alone, but a combination of these and the comfort of the user. Our non-filter Optifit Tips and SafetySpace Filter Tips are designed and manufactured to perfectly fit for our pipettes,
enabling maximal accuracy, precision and ergonomics. Moreover, wellmatching tips protect the pipette tipcone from wear and tear.
The unique Optiload mechanism of our pipettes allows tip attachment and loading with reduced force, but with complete sealing, which is vital to get accurate results. Sartorius tips correspond with the color-coding of Sartorius pipettes, to allow easy matching of corresponding volumes.
Need assistance finding the right tips? Contact Us
Premium Quality and Purity
Manufacturing the tips in our own production facility allows us to maintain the highest quality and purity standards, by selecting the best plastic materials and controlling the manufacturing process from beginning to end. Our quality management system follows not only ISO 9001 and ISO 14001, but also ISO 13485. Tip production also abides by the ISO 14644-1 standard, in order to fulfill ISO Class 8 cleanroom conditions for secured tip purity.